…what new Christians bring to the church. "When opening a cause for sainthood, it's not just a question of personal holiness," he says. "You also ask, why should the church be interested in this potential saint? What is exemplary about their witness? Putting Black Elk forward is an example of Natives not just receiving gifts in their conversion but bringing gifts and in turn enriching the church and how we understand God working in our world."
"Putting Black Elk forward is an example of Natives not just receiving gifts in their conversion but bringing gifts and in turn enriching the church."
By Damian Costello and Jon M. Sweeney October 01, 2017 America Magazine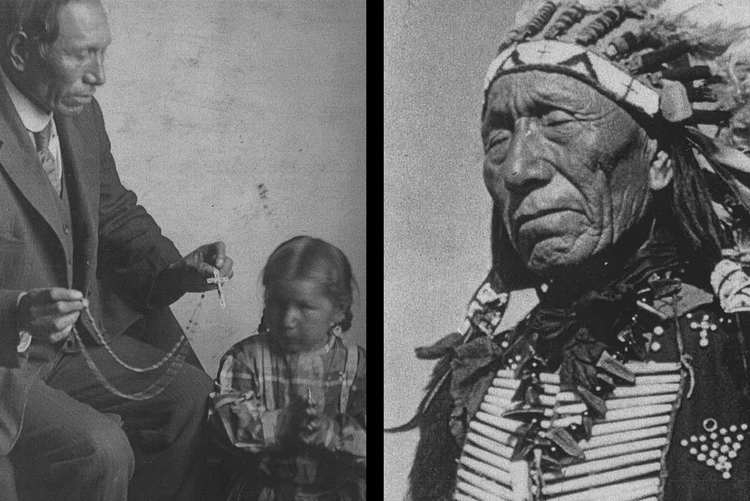 Black Elk as a Catholic teacher and as a Lakota leader. (Left photo: Marquette University Archives, Bureau of Catholic Indian Mission Records, ID 00559; right photo: Marquette University Archives, Bureau of Catholic Indian Mission Records, ID 01287/Ben Hunt)
In Our Lady of the Sioux, a small Catholic church in Oglala, S.D., George Looks Twice is waiting. Looks Twice, 83, holds a stick next to a drum that sits beneath his legs as the priest intones the eucharistic prayer. He is waiting for the point of consecration, where the bread becomes the Body of Christ. But instead of ringing bells, Looks Twice will strike the drum three times, the honor beats heard in the Sun Dance and other Lakota traditional songs. The drum will give honor to Jesus, whom the Lakota call Wanikiya, "He Who Makes Live."
In one sense, George Looks Twice has been waiting since 2012. In October of that year he was in Rome for the canonization of Kateri Tekakwitha, the 17th-century Mohawk woman who became the first Native American saint from North America. It was during that trip when Looks Twice first thought of how his grandfather Nicholas Black Elk could one day too be declared a saint by the Catholic Church.
Before Mass, Looks Twice sat down next to Mark Thiel, an archivist from Marquette University, and they got to talking. Mr. Thiel was familiar with Black Elk but had never met one of his close relatives. Looks Twice mentioned his hope of sainthood for his grandfather. "I felt a tingling, like this was a divine moment," Mr. Thiel remembers. "Never before had I heard someone speak of Black Elk that way."
Outside of Pine Ridge Reservation, most people know of Black Elk through Black Elk Speaks, the book by John G. Neihardt first published in 1932, based on three weeks of interviews conducted the prior year. Neihardt told only part of Black Elk's story; still, the Lakota medicine man became iconic for his presence at many of the events that represent the struggle of Native America as a whole. A second cousin to Crazy Horse, Black Elk was 12 years old when he participated in the Battle of the Little Bighorn, in 1876. He became a ghost dancer and fought in the aftermath of the Massacre of Wounded Knee, in 1890. He spent two years touring Europe with Buffalo Bill Cody. Globally, Black Elk is seen as a teacher of what was lost, an alternative and oppositional voice to the forces of industrialization and colonialism. But most seem unaware that he spent half a century as an active Catholic.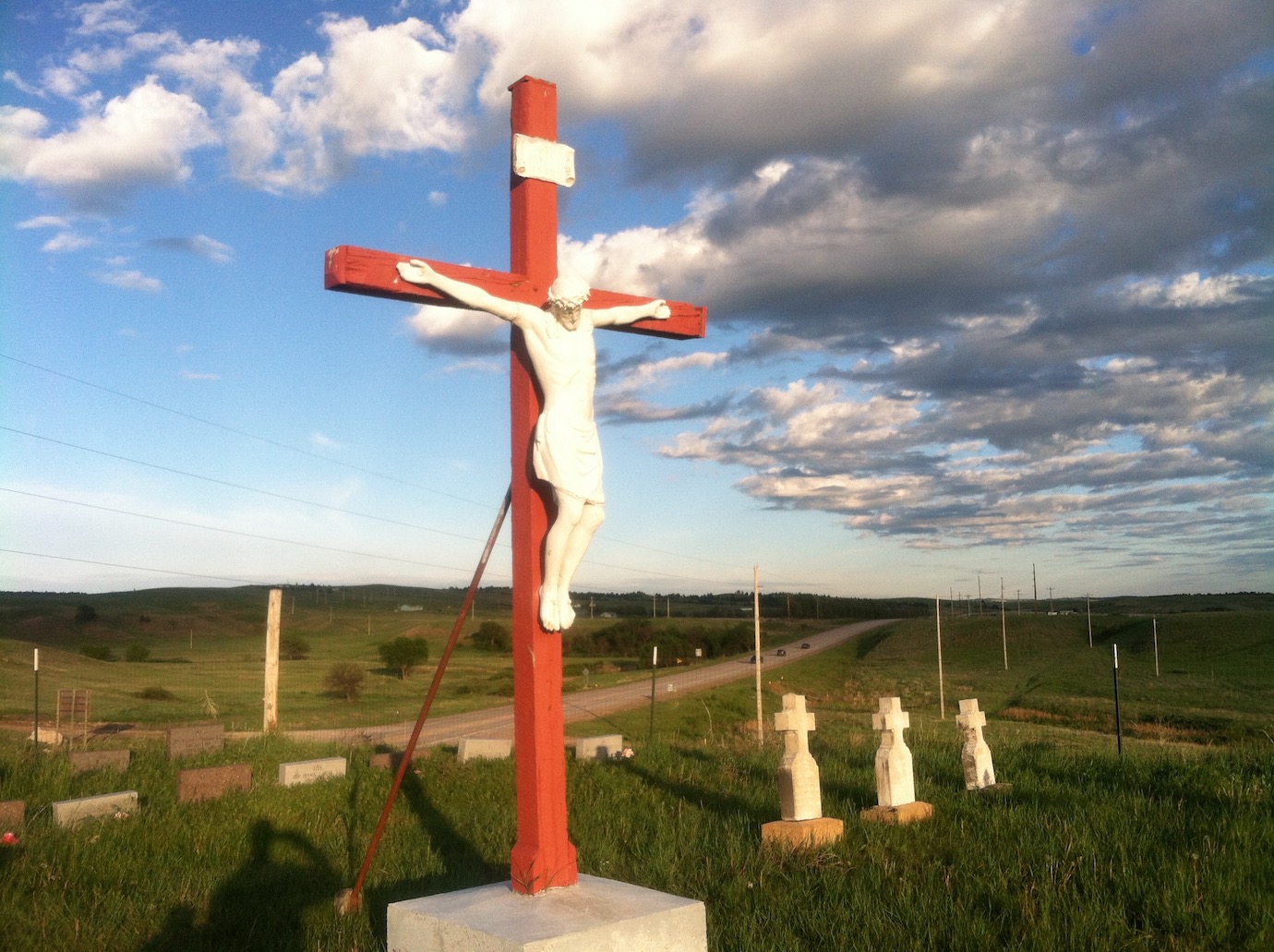 The Holy Rosary Mission Cemetery, in PIne Ridge, S.D., includes the graves of many Jesuits and women religious. (Damian Costello)Back at Pine Ridge, people of Looks Twice's generation know Black Elk primarily from his work as a Catholic lay preacher, or catechist. In 1904, at the age of 40, he became interested in Catholicism after a Jesuit objected to a healing ceremony Black Elk was conducting. He gave up his medicine practice and converted to Catholicism. Black Elk then learned to read and became known for his ability to memorize Scripture and for his dynamic preaching. He spent decades as a catechist, taking numerous missionary trips to other reservations in what he called "spiritual scalping-tours." The Black Elk family stayed so long on the Yankton Reservation that his daughter, Lucy, remembered being made fun for talking like a Yanktonai when she returned to Pine Ridge.
Today, in the parish where Black Elk did much of his pastoral work, the aura of sainthood is unmistakable. There is an air of reverence when his name is spoken. He is credited with bringing 400 people into the Roman Catholic Church. Black Elk also lived a life of unquestioned holiness and experienced the kind of suffering that is often associated with lives of the saints. His first wife died in 1903, son William in infancy, son John of tuberculosis at 12, an infant son and two stepdaughters of tuberculosis in 1910. He himself lived with tuberculosis from 1912. But Black Elk never complained about his suffering and he proclaimed his Catholic faith until the end. "Now my heart is getting sad—but my heart will never turn bad," he wrote in a letter in 1948. "Ever since Wakan Tanka [the Lakota name for God] gave light to my heart, it stands in light without end."The priest raises the host and Looks Twice strikes the drum three times. Black Elk taught that the drum is the beating heart at the center of the universe, saying, "the voice of Wakan Tanka [Great Spirit], and this sound stirs us and helps us to understand the mystery and power of all things." The host stays in the air, the congregation is still, and the drum echoes, filling the small church. 
Pine Ridge
Last fall, Black Elk's grandchildren presented the bishop of Rapid City, also in South Dakota, with a petition of over 1,600 names requesting that the diocese formally nominate their ancestor for canonization.What would the canonization of Black Elk mean to Lakota Catholics today? Not surprisingly, there are significant cultural issues involved. The conflicts of the Indian Wars and the reservation system, easily filed away as history elsewhere, remains palpable and unresolved here. And unknown to Catholics in other parts of the United States, the church, and particularly the Society of Jesus, is right in the middle of it all. The Jesuit-run Holy Rosary Mission was founded in Pine Ridge in 1890, as its website explains, "with the westward expansion that delivered Christianity to the Lakota." While many missionaries were well-intentioned and well liked, the church was also a willing participant in the federal government's program of cultural persecution, where "saving the man" meant "killing the Indian," or erasing the only identity he had known.
Some voice no resentment. "It wasn't so bad," one Lakota-speaking elder says in passing about Red Cloud School, where children are enrolled from kindergarten through high school. "I learned religion there." But history has scarred many, and the desire to escape anything related to the colonial past is strong. For some, there is the feeling that the canonization of Black Elk would be a continuation of the church's role in colonialism. This makes them wary of the process, as if the church is appropriating something that is not hers to take. Once a participant in the cultural persecution of the Lakota, this thinking goes, the church is now using what is left to cover its sins in Native garb.
For some, there is the feeling that the canonization of Black Elk would be a continuation of the church's role in colonialism.  I heard these concerns in Pine Ridge recently from a couple of 30-something Lakota who had recently returned to the church. They saw the practices of Catholicism, along with those of the Lakota way, as part of their path of sobriety. But they were unsure about the motives behind the cause of Black Elk. "Look, the Catholic way, it's a good way," one said. "It teaches spirituality and goodness, something we desperately need more of around here. But the church has never owned up to what they did in the past. Until they fully admit that and take steps to make reparations, the wounds won't heal."
Uncertainty and pain are real, but this healing is occurring, and Black Elk is a part of the process. Much of the church's ministry in Pine Ridge is now in the hands of the Lakota, both in the parishes and in the community. The "Lakota Catholic Radio Hour" on KILI, the tribal radio station, is a fine example. The station sits on Porcupine Butte, just north of Wounded Knee, and its broadcast area covers 30,000 square miles.
Every Friday at 2 p.m., Patricia Catches, a lay minister at the largest parish on the reservation, discusses the intersection of Lakota tradition and Catholicism with a fellow Lakota Catholic lay minister, Charles McGaa, and one of the Jesuit fathers of Pine Ridge.Patricia Catches's own roots run deep in both Lakota tradition (Lakota is her first language) and the Catholic Church. Her grandfather, Paul Catches, was a catechist and filled in for Black Elk when he was away on missionary trips. Pete Catches, her father, started out as a catechist before leaving to become a medicine man. Her mother remained active in the church, working with the nuns at the local Montessori school. Patricia was raised in both traditions. It has not always been easy for Ms. Catches to be both. She was sent to boarding school back when students were prevented from speaking Lakota. "After that, I had a lot of bitterness and moved away from the church," she once explained in an interview on the "Lakota Catholic Radio Hour." "But over the last 20 years, as I practiced my Lakota traditional ceremonies, I realized that they teach us to pray for those who have done us wrong. And I saw how much the church has changed, and how today it includes and honors Lakota traditions as well. So now I'm following in my father's footsteps as a catechist. I'm in the fourth year of a class to become a Lakota lay minister in the church. I'm letting the Lord lead me in that way."
Black Elk aided her in her journey. In the 1990s, Ms. Catches read a book by the Jesuit anthropologist Michael Steltenkamp, Black Elk: Holy Man of the Oglala (recently issued in a revised edition under the title Nicholas Black Elk), that has, more than any other, explained the Catholicism of Black Elk.
"What caught my attention is that he was always with the children, that he taught the two ways. It really affirmed my role as a lay minister," she told me when we recently sat down to talk. When I asked about the possible canonization, she responded: "I'm very excited. Many Native Americans could be named saints…. We stand on the shoulders of giants, and Nick Black Elk certainly was [one of them]."Black Elk serves not only as a spiritual mentor but also as a lodestar for sorting out issues of Native identity.
"There's an element of mystery to Black Elk," Maka Clifford tells me. Mr. Clifford is a graduate of Red Cloud Indian School and works there now as the volunteer coordinator. I was told to be sure to meet him because he is a descendant of Black Elk, but Maka quickly downplays that connection. As a descendant, he explains, it "puts a false authority on me, one I haven't fought for or earned.""His journey was complicated, just like mine," he adds. Clifford's mother, Charlotte Black Elk, is a lawyer, prominent activist and, according to Clifford, explicitly "anti-Christian." His father, Gerald Clifford, spent a number of years as a Camaldolese Benedictine monk. When Gerald married Charlotte, he became a Sun Dance chief while remaining a practicing Catholic. As a result, Maka grew up with all the prominent traditions and perspectives in his family.The most important issue at the moment for Maka Clifford and his students is to figure out how to be indigenous in modern society: "History has produced a society that feels the need to authenticate itself." He says that participating in activities deemed nontraditional leaves people open to the criticism that they are "not Indian enough." The witness of Black Elk, as both indigenous and a potential Catholic saint, is a resource in the process of decolonization and healing, he says. "My hope is that we can learn that we can be indigenous and all these other things: Catholic, worldly, a diplomat, a scientist, etc. My hope is that being indigenous is not limited. And Black Elk is part of that conversation."
The Church 
Bishop Robert D. Gruss of the Diocese of Rapid City is the person tasked with deciding whether or not to formalize Black Elk's cause. Bishop Gruss was born and raised in Texarkana, Ark., and worked as a pilot for several years in his 20s before deciding to go to a four-year college. In 1990, he earned his B.A. from St. Ambrose University in Davenport, Iowa, with a degree in theology. Now 62, he is a genial man put in a unique situation.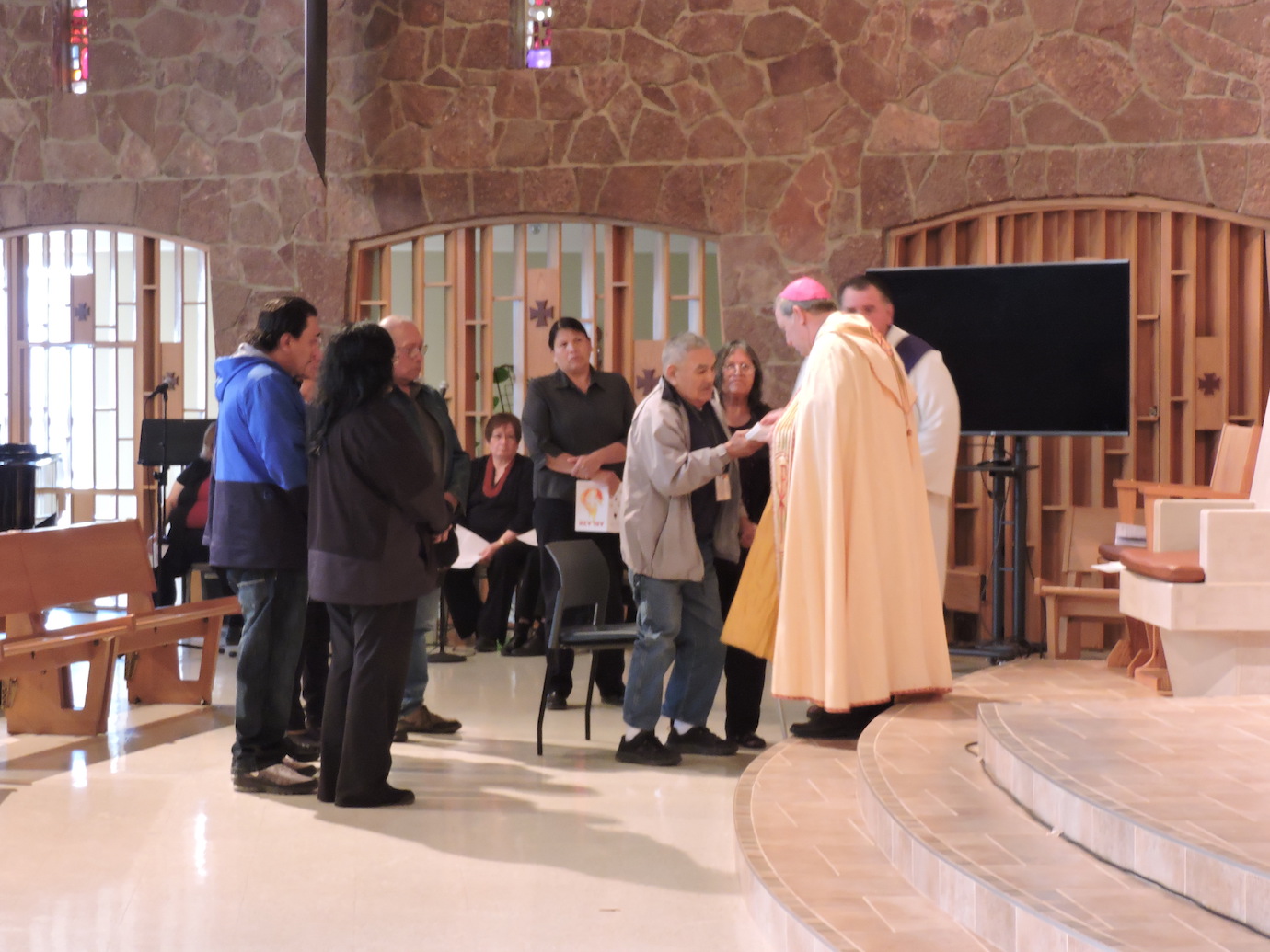 George Looks Twice (center), along with other grandchildren of Black Elk, presents a petition for canonization to Bishop Robert Gruss. (Becky Berreth/West River Catholic)He came to Rapid City with powerful connections in the Vatican. Bishop Gruss is a former vice-rector of the Pontifical North American College, in Rome; he was also chaplain to Pope Benedict XVI and is a close friend of the pope emeritus. Intriguingly, the Diocese of Rapid City has been a training ground for a number of people who now hold much more prominent positions in the church: Bishop Gruss's two predecessors were Charles J. Chaput, O.F.M.Cap, now the archbishop of Philadelphia, and Blase J. Cupich, now the archbishop of Chicago.Soon after members of Black Elk's family brought the petition to Bishop Gruss, he began to deliberate. It was his first time in such a process and, he admits when we talk, it was a lot of work. "In the beginning it was going through a lot of documents," he says, and he felt the pressure. Essential to the petition's future is the appointment of a local postulator for the cause. Bishop Gruss has chosen Bill White, a Lakota candidate for the diaconate and the father-in-law of Jerome Lebeaux, a prominent Sun Dance chief. (It is not common for a postulator to be a layperson, but there is no restriction against it.) If the cause ends up moving forward, a postulator at the Vatican will be found, and White will become vice-postulator.
For Bishop Gruss, there is no debate over the authenticity of Black Elk's conversion. When I ask if the lack of public awareness of Black Elk's Catholic life could complicate the cause, he does not respond with theory but with pastoral concern. "There is overwhelming support from Lakota people, from the Natives," he says. (A diocese that uses smudging, the Native practice of burning sage or cedar for purification, and the Lakota Four Direction Song at the Chrism Mass has presumably worked out many of the uncertainties regarding how Catholicism and Lakota practices can make a spiritual home together.)
Still, the image of Black Elk holding a position of honor in the church equivalent to that held by St. Teresa of Calcutta may be controversial. I ask about the conflict that occurred over the recent name change of Harney Peak, the highest natural point in South Dakota, to Black Elk Peak. "There was a lot of opposition," the bishop says. "The Lakota felt they had a legitimate reason for the change, as it was a desecration to name something that they feel is theirs after someone who perpetrated massacres. The opposition thought it was just P.C. [political correctness], a reflection of the dominant P.C. culture that tells you what to believe and what to say." Could there be similar resistance to Black Elk's cause?
"There may be, but I'm not concerned about that," Bishop Gruss says. "This is about lifting up people who lived lives of sanctity. And about those people who lived lives of sanctity lifting up the communities they come from. You can't worry about what people think." He recalls that people complained about Kateri Tekakwitha's canonization: "'Why her? Why now?' they asked. I'm sure that will happen here."When I ask Bishop Gruss what he hopes to accomplish in his episcopacy, he puts his approach to Black Elk's cause in proper perspective. "This is a mission diocese," he says, using a common term for a geographically remote outpost of the church. "I hope that I'm able to say that I moved this diocese from a mission diocese to a diocese with a mission." He does not say so explicitly, but I suspect that having a homegrown missionary saint would help.Bishop Gruss has decided to continue the process by formalizing the cause for canonization.
"The next step is to get the support of the regional bishops, in this case the entire U.S.," he explains. He will bring the matter to the U.S. Conference of Catholic Bishops and expects that his fellow bishops will affirm his findings, as usually happens. He had hoped that this would occur at their June meeting but was unable to get it on the agenda in time; so it will wait until the fall meeting.
The Society of Jesus
In talking to the Jesuits who live at Holy Rosary Mission you get a bigger theological picture. This is only natural. Jesuits have been working alongside the Lakota since Red Cloud, the famous Oglala leader buried in the cemetery overlooking the mission, asked for sina sapa, or "black robes" (the Lakota term for a Catholic priest), to set up a school. The government approved and Holy Rosary Mission was established. That was nearly 130 years ago.At the height of the Jesuits' influence in southwestern South Dakota, there were 23 Catholic missions. America reported just a few months ago that 525 acres of that land were being legally and formally returned to the Rosebud Sioux.
For over a century, the Jesuits and their Lakota congregations, like missionaries and new Christians throughout the history of the church, have been sorting out what of pre-Christian culture should be retained. That is one of the important functions of Black Elk's life and legacy, according to Joe Daoust, S.J., head of the Holy Rosary Jesuit community today. "Putting the traditions together is a fulfillment of the Lakota people's search for God," he told me.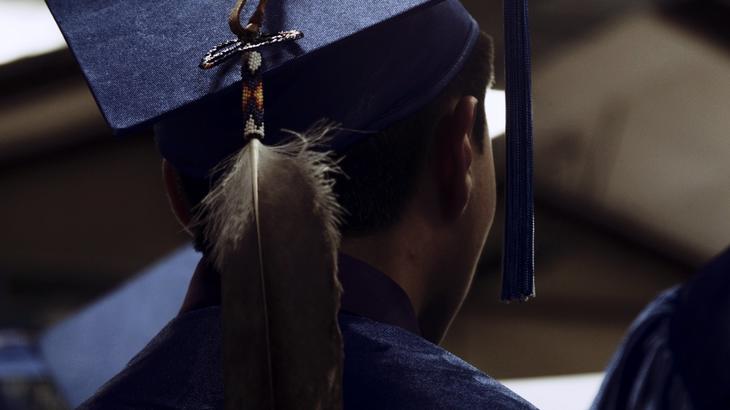 Father Daoust has been in Pine Ridge for only two years, but his Lakota phrases flow effortlessly when celebrating Mass. He became fascinated with the story of Black Elk through contact with Lakota Catholics at Pine Ridge. For Father Daoust, Black Elk's work is not just for Lakota Catholics. There is the other, often-neglected side of conversion: what new Christians bring to the church. "When opening a cause for sainthood, it's not just a question of personal holiness," he says. "You also ask, why should the church be interested in this potential saint? What is exemplary about their witness? Putting Black Elk forward is an example of Natives not just receiving gifts in their conversion but bringing gifts and in turn enriching the church and how we understand God working in our world."
The analogy of St. Thomas Aquinas and his use of Aristotle comes to mind. It is easy to forget how innovative it was for the Catholic theologian to draw upon the work of the Greek philosopher, but this method gave the church a new and deeper understanding of God and God's work in the world. What was once controversial is now seen as one of the most traditional sources of Catholic theology. In a similar way, indigenous thought has the potential to give the church a new method for understanding and interacting with God's creation, what Father Daoust calls "a gift of Native American spirituality to the church."
Ultimately, Father Daoust is hopeful about Black Elk's cause. "Pope Francis has spoken of indigenous spirituality in "Laudato Si'," and I think he will be particularly receptive to the cause." A Living PresenceThe plains of Pine Ridge fall away easily to the horizon. Bleak and windswept in winter and desert-like in the droughts of summer, the grass is now long and green from an unusually wet spring. Small horse herds graze, their tails waving like the prayer flags on Sun Dance trees that remain from last summer. Deer dart away from the road, and a red-tailed hawk circles above. It all feels like the renewed world of Black Elk's vision, where "the birds and animals and lightening and thunder were like laughter."
Will Black Elk one day be made a saint? One can never be sure, but the echoes in Pine Ridge from him and his work have a vibrancy that cannot be overlooked. It remains to be seen if miracles will be brought forward and authenticated, but Black Elk has left more than a legacy. There is the feel of a living presence at Pine Ridge—and perhaps elsewhere in this country. Black Elk always had a way of finding himself in the middle of important events.
Basil Brave Heart is another of the many Lakota on Pine Ridge trying to sort out what it means to be both Lakota and Catholic, and to heal the pain for those who feel a sense of opposition between the two. Brave Heart wears many hats: a graduate of Red Cloud, Korean War veteran, a Sun Dance chief, a recently retired Yuwipi healer and a regular at daily Mass at Holy Rosary Church. He went to school with Black Elk's son, Ben, at Holy Rosary Mission and remembers first seeing Black Elk while picking potatoes with his family in Nebraska. As a writer, Brave Heart mines Lakota tradition, Christian theology and quantum physics in an effort to articulate a unified Lakota Catholic theology. He is also the one who initiated the movement to rename Harney Peak. 
It happened unexpectedly. Two years ago Brave Heart got up at 3 a.m. and picked up a book on Lakota history. He read an account of the Blue Water Creek massacre, where U.S. Army General William S. Harney and 600 troops attacked a Lakota village of 250, killing 86 (half of them women and children) and taking 70 prisoners. Brave Heart became overwhelmed by the tragedy. He lit some sage to smudge off and started to cry. This was not merely an expression of sorrow, Brave Heart explained to me, but "an act of prayer." The word for "to cry" in Lakota, ceya, is also the root of the word for prayer, "when the whole body pushes up sacred water that emerges in your tears."
In the midst of his lament, Brave Heart says that Black Elk came to him, not in a dream but while he was both conscious and in the realm of the spirits. He was not thinking of Black Elk at the time, he emphasizes. "People always ask me 'How did you come up with Black Elk?'" Brave Heart says. "I had nothing to do with it. It came from God, Goddess, whatever you call the Creator."There was a lot of opposition and anger when this religious experience turned into a national cause for changing the name of a local mountain. But after two years, the peak became Black Elk Peak, a change that Brave Heart calls "the answer to many prayers." And if we take Brave Heart's word about that process, this was an example of the ongoing work of Nicholas Black Elk, an extraordinary Catholic. 
Download Why spirituality is central to understanding the Standing Rock protests
Download Catholic and Lakota Subscribe
Nicholas Black Elk (Photo courtesy of the Marquette University Archives)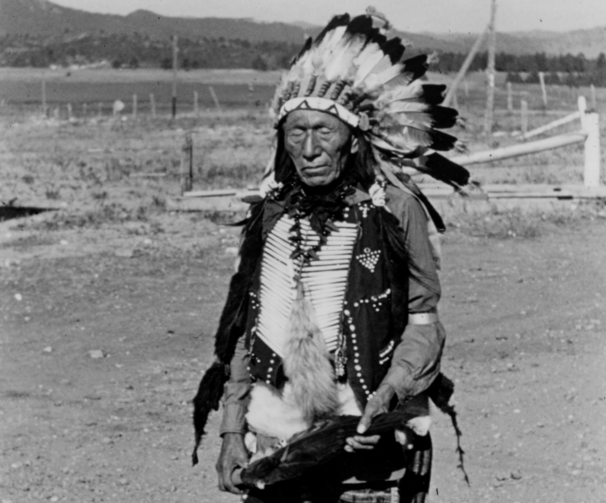 Black Elk by Joe Jackson, published by Farrar Straus and Giroux. 484p $30
The true ordeal of the Teton Lakota, the warrior tribe that whipped the U.S. Cavalry in several notable fights in the 1870s, began after the shooting stopped. Worse than the persistent hunger was the federal effort to "civilize" the Indians by stages into hat- and trouser-wearing farmers with one wife, Christian first names, fixed last names and children who learned English in school. But the authorities had one aim above all others—to end the ancient practice of smoking a traditional pipe with a mixture of tobacco and the inner bark of the red willow before calling out to the ultimate power behind all things addressed by Lakota as Tunkashila. The Lakota resisted all of these changes but clung to nothing more tenaciously than the pipe.
The Oglala holy man and healer known as Black Elk once said that Lakota used tunkashila, which means grandfather, as a sign of respect and intimacy. The word, with the accent on the second syllable, is not the name of God, who has no name in traditional Lakota religion but is simply described as Wakan Tanka, translated by convention into English as Great Spirit. But wakan is a heavily freighted word. It means spirit in the sense of immaterial, large, eternal and everywhere, but it also means ancient, unknowable, mysterious and powerful.
The Lakota wakan tanka in some particulars resembles the traditional Judeo-Christian-Muslim god—knows everything, is the source of everything, can be reached by prayer—but was held in suspicion by the Christian churches that established themselves on the Lakota reservations in South Dakota. To defend the primacy of the Bible the churches persuaded the federal authorities by the early 1880s to impose a Code of Indian Offenses with reservation courts to try, convict and punish offenses that were all religious or cultural in nature. Outlawed for the next 50 years were the sun dance, traditional medicine, use of a sweat lodge for purification, plural marriages and dispersal of personal property at death in a ceremony known as a giveaway. Officials intended to extinguish every aspect of Indian culture root and branch, starting with native languages. 
Both witness and victim of this long ordeal was the Oglala Black Elk, who took the Christian name of Nicholas, became a Catholic in about 1904 and served as a catechist until 1930, when his life took a dramatic turn recorded by Joe Jackson in a book that is not only an exhaustive biography but the best account we have of what it meant for Northern Plains Indians to watch their children stripped of everything their fathers had believed. Both sides of this story are included—the religion Black Elk tried to preserve, and the battle for his allegiance waged by Jesuit priests who felt betrayed by his late-life return to the old ways. 
The struggle began in 1930 when Black Elk at 67, fearing that traditional pipe religion would die with him, elected to tell the Nebraska poet John Neihardt about the central religious experience of his life—an elaborate vision he had experienced when he was 9 years old. Neihardt devoted the longest chapter of his book, Black Elk Speaks, to this vision, which has poetic splendor but is not easily summarized. At the heart of it is an account of the religious crisis faced by the Lakota people and of the charge placed upon Black Elk personally by the Six Grandfathers to restore the sacred hoop of life and the flowering tree at its center. Black Elk described all of it in a non-stop, three-week interview with Neihardt. Just as remarkable was Neihardt's effort to record the vision faithfully.
When Black Elk Speaks was published in 1932 the holy man's vision was the big central thing, followed by a more conventional account of his role in the major episodes of Oglala Lakota history, from his birth in 1863 through the massacre known as Wounded Knee in 1890. New to the story is Jackson's account of Black Elk's season with Buffalo Bill's Wild West show in Europe 1887. After missing the boat home, he lived in France for a year, falling in love and fathering a child.
About Black Elk's life after the massacre at Wounded Knee Neihardt had almost nothing to say. The holy man's Catholic daughter, Lucy Looks Twice, and his Jesuit friends were hurt and angry to find not a single word about Black Elk's 25 years as a catechist and winner of souls—at least 400 conversions, according to one of the Jesuits he worked with. Near the end of their time together, Neihardt asked Black Elk why he had turned his back on his own religion to join "a white church." Neihardt's teenage daughter Hilda was present and later described the old man's response.   
"Black Elk thought for a moment or two," she wrote, "then he replied quite simply, 'Because my children have to live in this world.'"
Jackson provides a careful and even-handed account of what happened next. Angriest at the omission was Father Placidus Sialm, a Swiss-born Jesuit who had spent more than half of his life working with the Lakota in South Dakota. He openly dismissed Black Elk as an "ignorant Indian" and launched a clumsy campaign to give the church a central place in the story of his life.
Eventually, Father Sialm went a step too far and Black Elk signaled enough. The moment has been described by Black Elk's granddaughter, Esther DeSersa, who was present as a child in 1935 one morning when she was home sick from school.
I was at my grandfather's house, and he was sitting down, getting his pipe ready early in the morning, and here was Father Sialm knocking on the door…he came in, and he saw my grandfather with the pipe. Father Sialm grabbed the pipe and said, "This is the work of the devil!" And he took it and threw it out the door on the ground.
My grandfather…got up and took the priest's prayer book and threw it out on the ground. Then they both looked at each other, and nobody said one word that whole time.
And then they both went out, and I saw Father Sialm pick up the prayer book, and Grandfather picked up his pipe…. Then they turned around, and they just smiled at each other and shook hands! 
Sorting out what Black Elk believed is difficult. The available evidence suggests that at the end of his life he returned to his beliefs at the beginning. Near the end, he told his daughter Lucy and other family members, "The only thing I really believe is the pipe religion." His son Ben was equally devoted to "the pipe" but considered himself to be a Christian, too. In 1969, after decades spent trying to clarify what he was, Ben told a roomful of school children, "Today it has all merged together, and I feel that I live the one life now." 
But more important than placing Black Elk is what he managed to save. The vision he described for Neihardt, and later amplified for another scholar who came to his door, Joseph Epes Brown, preserves a clear account of a body of religious thinking that officials wanted to scrub from Lakota memory. The old-time Lakota always believed that it was the warriors who would save them. What Black Elk taught his people was to depend instead on something harder to take away than guns, the trust that prayers in their own language, delivered in their own way, would reach the god they addressed as Tunkashila. 
This article also appeared in print, under the headline "The Native American Holy Man who did not surrender all to the Jesuits," in the January 23, 2017 issue.
Also see: How Standing Rock became a spiritual pilgrimage for activists Eileen Markey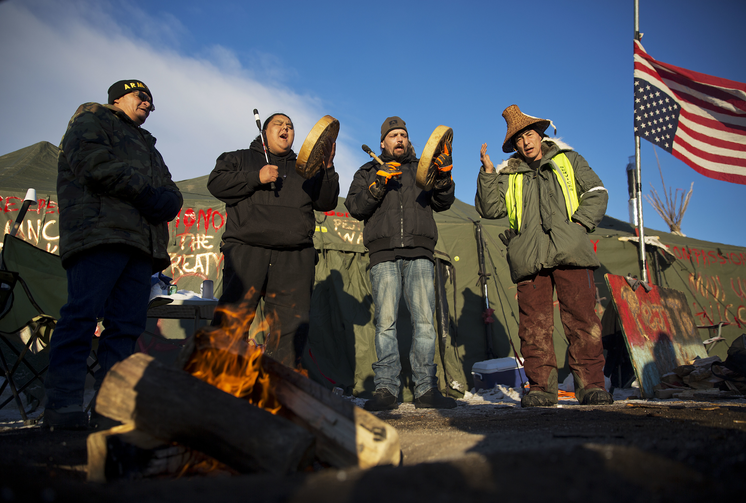 Native Americans drum and sing at the Oceti Sakowin camp in protest of the proposed Dakota Access oil pipeline in Cannon Ball, N.D., on Dec. 4. The U.S. Army Corps of Engineers announced that day that it will not grant an easement for the pipeline. (AP Photo/David Goldman)
I drive to the Dakota Access Pipeline (D.A.P.L.) protest in late November with a mix of mild apprehension and marvel. I am apprehensive over the chance of violence and arrest, and I marvel at the beauty of the Standing Rock Reservation's vast, undulating prairie landscape. As I travel I begin receiving from this sacred land a felt infusion of spiritual spaciousness, a cleansing of soul clutter. As I top one of countless enfolding hillcrests along North Dakota highway 1806, the Oceti Sakowin camp suddenly appears ahead and to the right.
It is breathtaking. Hundreds of beautiful tipis, tents, and square-framed structures nestle at the confluence of the Cannonball and Missouri Rivers, hugged by a ring of grassy buttes and covered by a majestic purple-blue sky. I can already see the pulse of camp activity. People are toting supplies, erecting shelters, tending fires, riding horses, talking and laughing. My spirit is galvanized, but edgy.
I pull into the camp gate and up to a young Native American man standing at a security kiosk. I roll down my window and offer him what is surely a quizzical, uncertain face. He squats down, meets my eyes, smiles, and says, "Welcome home." My apprehension and edginess immediately fall away. His disarming, familial welcome is arresting—not the kind of arrest I was anticipating.
The young man has learned well from his elders. These teachers, some from the surrounding Sioux Nation and others from Native communities across North America, speak to camp residents at the Oceti Sakowin fire circle from early morning to late in the evening. Everyone is invited to prayer and ceremony, solemn time embedded in singing and a drumming heartbeat. In clear, concrete and succinct language, men and women elders say what it means to call the land our home.
As I reach into my Catholic spirituality, seeking a way to link this lesson to my life in a compact neighborhood of bungalows on the South Side of Chicago, I am reminded that Pope Francis begins his encyclical "Laudato Si'" the same way: the Earth is our common home.
The elders teach that within this home live all our relations: the two-leggeds, four leggeds, crawlers, winged ones, plants and rocks. Listen long enough and you will repeatedly hear the Lakota phrase Mitákuye Oyás'iŋ, or "all my relations."  I am yet more spiritually challenged by these teachings. What kind of conversion would it take for me to move from being politely warmed by the sentiment that horses and buttes are our brothers and sisters to truly seeing and feeling and living my life that way?
Pope Francis resurfaces. Nothing in "Laudato Si'" is repeated more than "everything is connected."  He writes: "Because all creatures are connected, each must be cherished with love and respect, for all of us as living creatures are dependent on one another." I'm beginning to feel that my time with the Native elders is opening me to buried riches within my own faith.
No matter where you sleep in the Oceti Sakowin, Rosebud or Sacred Stonecamps, you will hear the 7:30 a.m. morning prayer through booming loudspeakers. This morning it is 18 degrees outside. I am debating whether to stay in my cozy sleeping bag or get up, go to the fire circle and pray with frozen toes. My sleeping bag is winning. But here is where my Catholic spirituality really kicks in, born as it was from my days as an altar boy walking in below-30-degree temperatures to 6 a.m. Mass. I grudgingly crawl out of the tent, walk to the fire circle and risk a low-grade hypothermia for God.
The ceremony is beautiful. The high point is the Nibi Wabo Water Walk to the Cannonball River, led by chanting Ojibwe women from Minnesota, Wisconsin and Canada. During the procession to the river, the women chant Mni Wiconi, or "water is life." We all repeat. The women then ask people from other tribes to chant the phrase in their language. About eight other Native languages intone "water is life."' We repeat. Then a Jewish man from Brooklyn shouts, "Mayim l'chaim." Native Americans from tribes across the continent begin enthusiastically chanting, "Mayim l'chaim." Where else on Earth would a soul want to be?
There is much to say about the Army Corps of Engineers' recent decision to deny pipeline easement across the Missouri. It was a moment of communal elation I will never forget. And there is much to say about the D.A.P.L. protest and police brutality, corporate half-truths and government waffling. Further, Energy Transfer Partners, builders of the pipeline, has stated that regardless of the government's decision, they fully expect the pipeline to be built along its current route.
But in and among and even in spite of all this, the camps of the D.A.P.L. protest are places of spiritual education, challenge and growth. They are a worthy destination. How blessed we are to have Native American elders leading a courageous, spiritual defense of our land. How blessed we Catholics are to have the heart and words of Pope Francis to assist us in our journey with them. Oceti Sakowinhas forever marked my spirit, these strangers who welcomed me home.
This article also appeared in print, under the headline "Black Elk, the Lakota medicine man turned Catholic teacher, is promoted for sainthood," in the October 16, 2017 issue.
Members of a Native American drum procession celebrate at the Oceti Sakowin camp after it was announced that the U.S. Army Corps of Engineers won't grant easement for the Dakota Access oil pipeline in Cannon Ball, N.D., Sunday, Dec. 4, 2016. (AP Photo/David Goldman)

"This is really history in the making," said Marcus Ruff, a senior at Red Cloud Indian School. According to Mr. Ruff, the protesters were standing up for basic human rights.
Taylor Charging Crow, a 17-year-old member of the Lakota Sioux tribe, expressed joy upon hearing the news. Livelihoods depend on the success of the protest movement, she said."We're trying to do something for our nation," she explained. "We're risking our lives. We're risking our families."
The protest movement, which began in early 2016, attracted thousands of people to North Dakota. Protesters made up of several tribes from the Dakota region and people from across the country contend the land proposed for the pipeline belongs to Native Americans from a treaty signed 150 years ago. The Standing Rock Sioux filed a lawsuit in July, stating the proposed project would also run through tribal sacred sites and threaten drinking water for millions of people.  Jo-Ellen Darcy, U.S. Army assistant secretary for civil works, said in a statement the developers must "explore alternate routes" for the pipeline, which would have run underneath Lake Oahe on the Missouri River, a half-mile away from a Native American reservation. The $3.7 billion Dakota Access pipeline was almost complete and would span 1,172 miles across four states.
The months of tension related to the protests have been particularly stressful for Mr. Ruff and other students of Red Cloud, a Catholic school run by Jesuits and the Lakota people in Pine Ridge, S.D. The coverage of the events has been "surreal," he said."One side of me is very proud of just the stand my tribe has been taking and other indigenous tribes have been taking," he said. "But the other side of me is sad that [this] has to happen."
The 18-year-old Mr. Ruff was part of a group of students who visited the protests in the fall to deliver warm items for the coming winter. The pipeline proposal showed a dehumanization of native peoples, which he said troubled him and his friends. "A lot of students at Red Cloud, they were really depressed," he said. "A lot of my fellow classmates got really down because of the violence that's gone on [toward the protesters]."
In "Dakota Re-Route Opportunity" (11/21), the editors of America described the startling image of officers in riot gear facing indigenous people:The sight invokes the most gruesome and unjust incidents from the past and suggests that Native American communities continue to be ignored and devalued in the present.
It is hard to imagine the concerns of another sovereign state being similarly dismissed by U.S. government officials and energy producers.The failure by developers to recognize the human rights of land and water for native people is "ridiculous," said Almadon Swalley, a 17-year-old senior."It's getting to the point where you have to talk about race," he said. "It's an ugly thing to talk about, but it's there."
Water plays an important role in Sioux religious ceremonies, it being one of the first the elements made by the Creator made. The Lakota prayer, "Mni wiconi," meaning "water is life," has become a rallying cry to protect the water reservoirs endangered by the pipeline construction. Ms. Charging Crow said her grandfather prays over a cup of water before drinking it.
Many outsiders do not understand the role of water and land to the Lakota people, Mr. Ruff said."Our mind and identity has been connected to the land [for centuries]," he said. "Whenever we destroy the land, we destroy the Lakota people."The announcement was, however, a short-term victory, said Taylahni Jackson. The 16-year-old junior said the news was comforting, but the decision is only temporary. Protesters are unlikely to leave the camp and no one knows what President-elect Donald J. Trump will do when he takes office in January. Mr. Trump supports the building pipeline and is believed to have owned stock in the project. The fight between oil pipeline developers and native people will likely continue with construction of the Keystone XL pipeline, too.Mr. Swalley said the protests united students at the school to fight for a cause. What happens next could be a tipping point in the history of corporations recognizing the rights of native people, he said."As far as I know, a conversation like this has never been had," he said.
Army Corps blocks route of Dakota Access oil pipeline
James MacPherson – Associated Press
'Our Concerns Have Not Been Heard'
Jan Hasselman, an attorney with Earthjustice who is representing the tribes, called the decision "deeply disappointing."
"There is a historic pattern of putting all the risk and harm on tribes and letting outsiders reap the profits," Hasselman said. "That historic pattern is continuing here."
Standing Rock Sioux Chairman Mike Faith, who was inaugurated Wednesday morning, agreed.
"This pipeline represents a threat to the livelihoods and health of our Nation every day it is operational," Faith said. "It only makes sense to shut down the pipeline while the Army Corps addresses the risks that this court found it did not adequately study."
"From the very beginning of our lawsuit, what we have wanted is for the threat this pipeline poses to the people of Standing Rock Indian Reservation to be acknowledged," he said. "Today, our concerns have not been heard and the threat persists."
Boasberg found that the agency didn't adequately consider how an oil spill into the Missouri River just upstream of the Standing Rock reservation might affect the tribe or whether the tribe, a low-income, minority community, was disproportionately affected by the pipeline.
The agency's initial environmental assessment considered census tract data within a half-mile radius of where the pipeline crosses the Missouri River. The Standing Rock reservation, where three-quarters of the population are Native American and 40 percent live in poverty, was not included in the analysis because it falls just outside that half-mile circle, another 80 yards farther from the river crossing.
Boasberg ordered a re-assessment of the Corps' prior environmental review but had not decided whether the pipeline had to be shut down in the meantime.