NCRonline, October 2020, A large majority of Catholic voters believe climate change is a serious or somewhat serious concern and that governments at all levels as well as corporations and individuals must take stronger action to address it, according to results of a new poll released Oct. 22.
Conducted Oct. 13 by Climate Nexus, Yale University Program on Climate Change Communication and George Mason University Center for Climate Change Communication, the online poll showed that 78% of nonwhite Catholics and 74% of white Catholics who participated consider climate change a serious or somewhat serious problem.
At the same time, 82% of nonwhite Catholics and 77% of white Catholics said they are very worried or somewhat worried about climate change.
The responses of Catholics are higher than the poll average, which found 73% of respondents overall, including those with no religious affiliation, held the same views. The same percentage of voters overall said they worry about climate change.
The poll interviewed 1,884 registered voters. The number included 87 nonwhite Catholics and 310 white Catholics, or about 21% of respondents. Its margin of error is plus or minus 2.4 percentage points.
The results were not surprising to Dan Misleh, executive director of the Catholic Climate Covenant.
"What it looks like is happening is more and more people and communities are experiencing impacts of climate change firsthand, and are now realizing that maybe there's something to what the scientists are saying and that we probably need to address it," Misleh told Catholic News Service.
Misleh credited Pope Francis and his continuing efforts to discuss the importance of protecting creation and the need to reach out to poor communities that are the most vulnerable to climate change as factors influencing the thoughts of Catholics.
The pope throughout his papacy has addressed environmental concerns, climate change and the connection of people to the earth. His messages have come most notably in the 2015 encyclical, Laudato Si', on Care for Our Common Home, the declaration of a Laudato Si' year that began in May to mark the document's fifth anniversary, and his most recent encyclical, Fratelli Tutti, on Fraternity and Social Friendship.
Dry farmland is seen in Calipatria, Calif., in this 2015 file photo. A preelection poll finds that a large majority of Catholic voters have some concern about climate change. (CNS/Reuters/Mike Blake)
The poll indicates that 71% of voters overall support government action to address climate change as well. Among Catholics, 75% of nonwhite voters and 77% of white voters support such a government response.
Catholics respondents supported congressional response to climate change, at about 75%, followed by support for state government action at about 72% and local government action at about 71%.
Meanwhile, 73% of nonwhite Catholics and 79% of white Catholics felt corporations should be doing much more or somewhat more to address climate change.
In addition, 79% of all Catholic poll participants said they felt a personal sense of responsibility to help address climate change.
Support for the Green New Deal initiative proposed by several members of Congress also gained high Catholic support, with 74% of nonwhite Catholics and 77% of white Catholics approving of the plan.
As introduced, the Green New Deal would direct government investments in infrastructure improvements, wind and solar energy, and boosting efficiency of transportation systems and energy usage in buildings to reduce carbon pollution.
The poll found similar levels of support among Catholic voters for job training and wage guarantees to workers who lose jobs in the fossil fuel industries as the transition to noncarbon energy sources occurs, federal stimulus spending that prioritizes clean energy infrastructure and increases in government funding for renewable energy as part of the economic recovery from the coronavirus pandemic.
In tabulating the results, the poll outlined responses from Jews, other non-Christians, mainline Protestants, other Christians, Black Protestants, white evangelicals and those who are unaffiliated with any religion.
It also polled voters with individual questions on issues such as discrimination based on religious belief, gun violence, the federal response to the pandemic, the economic impact of the pandemic, police violence against people of color and air pollution.
**
Elders fight for children's, grandchildren's future climate
Oct 27, 2020by Lucy GrindonActionThis article appears in the Election 2020 feature series. View the full series.
David Mog, second from left, stands with Elders Climate Action co-chair Leslie Wharton, third from left, and other activists represent Elders Climate Action banner at an event in Washington, D.C. July 20, 2018. (Provided photo)
Lynne Iser's daughter was 16 years old when she told her mother she wished she'd grown up in the 1950s and 60s, as her mother had, free from existential dread about climate change.
That conversation, a decade ago, changed Iser's life.
Hearing her daughter's pessimism and fear for the future of the planet hit Iser "in the gut" and propelled her to action, she said.
"What [my daughter] was concerned about was what I knew to be true, but I wasn't taking it in the same way that she was," Iser told EarthBeat. "It sunk into me — I really need to stand with my kid."
Today, as president of the national nonprofit Elders Action Network, Iser leads a growing movement of older adults who are addressing social and environmental crises through education efforts, advocacy and activism.
Because of the prominence of Greta Thunberg and other young activists, climate activism is often portrayed as a young people's movement. But Iser, 70, and others like her believe that elders have a critical role to play in protecting the planet, and an obligation to do so for the sake of younger generations.
"As future ancestors, what do we want our legacy to be?" Iser says elders must ask themselves. "How do we want to be remembered?"
Among Elders Action Network's largest projects is Elders Climate Action, whose members, organized in 12 official chapters throughout the United States, advocate for environmental protection and encourage other elders to join in climate action.
David and Gloria Mog, 77 and 78, have been active members of the Washington, D.C.-area chapter since 2015, taking part in demonstrations like "Fire Drill Fridays," which gained national attention last year because of actor Jane Fonda's weekly participation.
David first learned about human-caused climate change in 1984, in a conversation with Roger Revelle, one of the first scientists to study the growing impact of human actions on global temperatures. David, a chemist who was working then with the National Academy of Sciences, recognized the enormous significance of what Revelle told him.
"Holy mackerel," he recalled thinking at the time. "This is going to be the biggest challenge humanity has ever faced."
Along with attending demonstrations and meetings, the Mogs have worked for decades to inform other Catholics about climate change.
David started leading annual environmental liturgies for their lay-led Catholic community in Arlington, Virginia, in 1989, and Gloria heads the community's Care for Creation team, which was inspired by Pope Francis' encyclical, Laudato Si'. The team's goals are similar to those of Elders Climate Action: to educate people about climate change, and to offer individual and collective actions they can take to make a difference.
The Mogs have also made personal lifestyle changes for the sake of the environment, limiting their energy consumption and minimizing waste, refraining from using air conditioning and maintaining a backyard compost pile.
After starting a teaching career as a college professor, David discerned a calling to teach younger students, whom he felt were often overwhelmed by hard sciences, but who held enormous potential for innovation and brilliance.
Gloria and David Mog carry the Elders Climate Action banner in a Poor People's Campaign march in Washington, D.C. June 23, 2018. (Provided photo)
For 19 years, he biked the 15-mile daily round trip across the Potomac River to teach chemistry and physics to ninth graders at Sidwell Friends School in Washington, D.C. (He did the math — in total, his bicycle commutes over those years amounted to about 50,000 miles. As he told his students, he rode the length of the equator, twice.)
Like Iser, the Mogs say they are motivated and inspired most by their children, and by a sense of obligation to those younger than themselves. The Mogs do not have grandchildren, but many elder climate activists do.
Maxine Lobel, co-leader of Florida's Elders Climate Action chapter, said she and many of her fellow activists feel an urgent need to protect the planet for the sake of their grandchildren.
"That's the main impetus for most of us," Lobel told EarthBeat. "I feel very strongly that if we don't do something immediately, the world is just going to look very differently for them."
Spurred by April's Wisconsin primary, which was criticized for having hours-long lines and too few polling places in some cities, Lobel and other members of Elders Climate Action have been concerned that obstacles to voting may impede citizens' ability to elect leaders who will protect the environment.
Lobel noted that elders in particular may choose not to go to the polls because they face higher risk of serious illness or death if they are exposed to the coronavirus. Many elders are accustomed to voting in person, however, and some are unaware of alternatives.
Paul Dryfoos, Elders Stand for Fair Elections' national team leader, told of a man he spoke to in a Pennsylvania retirement home who did not know he could vote by mail, and who had thought 2020 would be the first election year since he turned 18 in which he would not be able to vote.
Lobel and about 40 volunteers from Florida Elders Stand for Fair Elections gather and distribute local voting information, particularly in communities where voter turnout rates have been low in the past. They partner with more than 200 other groups, including religious congregations, school districts, a farmworkers' association and a food bank, which distributed 3,000 voting information fliers in food bags.
A man in Miami exits a polling station Oct. 19, as early voting began ahead of the November election. (CNS/Reuters/Maria Alejandra Cardona)
Similar efforts are under way in Pennsylvania, Arizona, New Mexico, Wisconsin and New Hampshire, where elder groups worry about the spread of inaccurate voting information or possible voter intimidation at some polling places.
"Fair elections are a prerequisite to environmental, social and economic policies and subsequent legislation that responsibly address climate change and other issues key to our society's well-being," the Elders Action Network website states.
Iser, who co-leads the Elders Stand for Fair Elections group in Pennsylvania, said her generation gained an appreciation for democracy, voting rights and activism from living through the civil rights movement and the Vietnam-war era, and they bring those values to the climate movement today.
Young climate activists "may not get the support of their parents, but they will get support from the older generation," she said.
[Lucy Grindon is an NCR Bertelsen intern based in Los Angeles. Her email address is lgrindon@ncronline.org.]
Babies born near natural gas flaring are 50 percent more likely to be premature: Study
Researchers link air pollution from burning off excess natural gas to preterm births for babies, with the most pronounced impacts among Hispanic families.

Living near fracking operations that frequently engage in flaring—the process of burning off excess natural gas—makes expectant parents 50 percent more likely to have a preterm birth, according to a new study.
A birth is considered preterm when a baby arrives before 37 weeks (about eight and a half months) of pregnancy. Preterm births can result in underdeveloped lungs, difficulty regulating body temperature, poor feeding, and slow weight gain in babies.
Fracking, another name for hydraulic fracturing, is a process of extracting oil and gas from the Earth by drilling deep wells and injecting liquid at high pressure. While many studies have established links between living near fracking wells and numerous health effects, including preterm births, this is the first study to specifically investigate the health impacts of flaring.
Flaring is most commonly used when the primary goal of fracking is oil extraction, so it's cheaper to burn off the natural gas as a waste byproduct than it would be to capture, transport, and sell it. Flares can burn for weeks at a time, releasing combustion-generated pollutants like benzene, fine particulate matter pollution, carbon monoxide, nitrogen oxides, heavy metals and black carbon.
The study, published today in the journal Environmental Health Perspectives, looked at satellite data showing the location and duration of flares, and at hospital records from 23,487 births for parents living in the rural region of Eagle Ford, Texas between 2012 and 2015. In a previous study, the same researchers estimated that the Eagle Ford shale region, which is home to more than 7,000 fracking wells, had more than 43,000 flaring events between 2012 and 2016.
"We found that among mothers living within five kilometers (or about three miles) of a high amount of flaring activity during pregnancy, we saw 50 percent higher odds of preterm birth compared to mothers that had no exposure to flaring," Jill Johnston, one of the study's lead authors and an environmental health scientist at the Keck School of Medicine of the University of Southern California, told EHN.
A high amount of flaring was defined in the study as 10 or more nightly flare events within three miles of the pregnant parent's home. The researchers adjusted for the pregnancy risk of just living near oil and gas operations in general, and for other known risk factors for preterm birth including age, smoking, insurance status and access to prenatal care, to ensure that the increased risk they were seeing was just associated with flaring.
While looking at the density of wells, the researchers found that expectant parents who lived within three miles of a high number of oil and gas wells also had higher odds of a preterm birth than parents who did not live near wells, regardless of flaring. They also observed that babies born to parents who live near a high number of wells were smaller, weighing an average of about seven ounces less than babies born to parents who didn't live near fracking wells.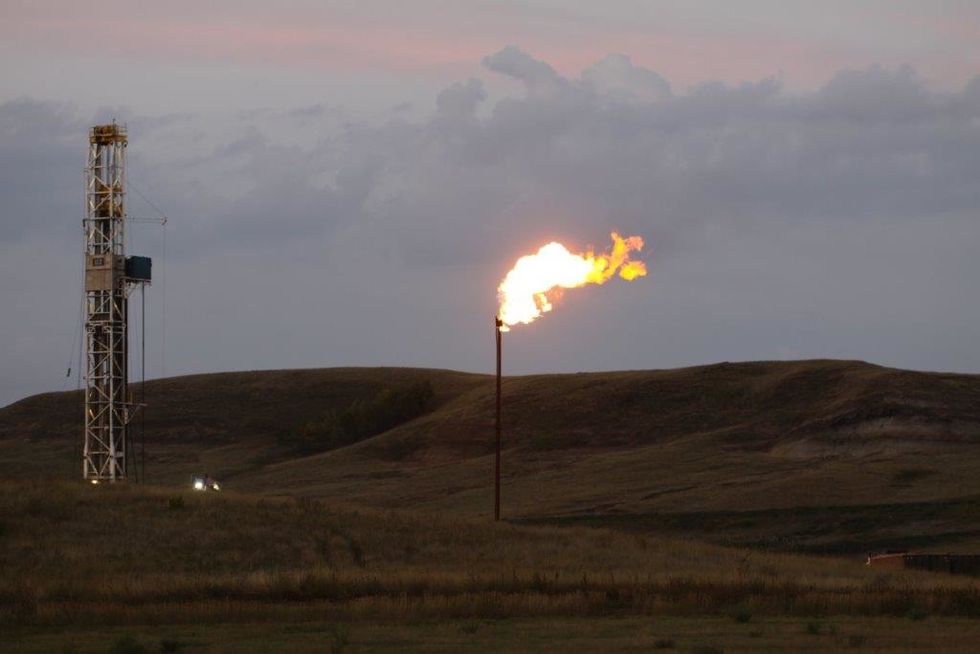 Flaring in the Bakken shale in North Dakota. (Credit: Trudy E. Bell)
Environmental injustice
Johnston and colleagues found that parents in the study who identified as Latina or Hispanic were exposed to more flaring, and were more likely than White parents to see an increased risk of preterm birth.
"I think that racial disparity is an important finding, and we need more research on the reasons behind it," Johnston said, noting that prior research has shown more vulnerability of women of color to effects of air pollution when looking at adverse birth outcomes.
"It's possible that a lifetime of discrimination and social stressors are driving factors here. It could also be that Hispanic families are spending more time outside and being more exposed to pollution from flares," Johnston added.
Hispanic communities in the region are exposed to more frequent flaring than White communities, Johnston said, which could also mean that even among the "high-flare group" in their study, Hispanic parents were being exposed to a higher number of flares every night than White counterparts.
"Historically, much of the waste disposal in the U.S. is concentrated in communities of color," Johnston added. "One theory is that we're seeing the same pattern with flaring, which is essentially another type of waste disposal. Infrastructure investments can be made to capture excess natural gas rather than burning it off, and where those funds are invested to minimize flaring often seems to depend on the characteristics of the communities nearby."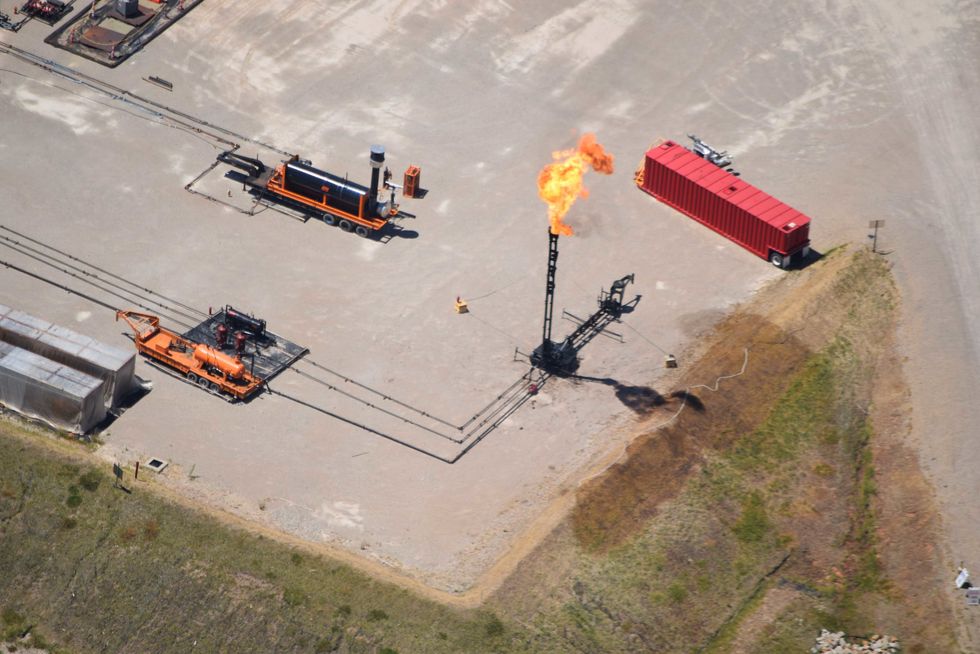 Flaring on an Ohio well pad in 2016. (Credit: Ted Auch, FracTracker Alliance)
A lack of health-protective regulations
It's estimated that globally, more than 139 billion cubic meters, or about 4.6 percent of all natural gas production, is flared every year.
Following the fracking boom that started in the U.S. around 2006, the U.S. became responsible for the highest number of flares of any single country, burning an estimated 13.2 billion cubic feet of natural gas in 2018.
In a previous study, Johnston and her research team estimated that about 80 percent of U.S. flaring is occurring in the Texas and in North Dakota shale plays, where much of the country's oil-extractive fracking occurs. In places like Pennsylvania, where fracking companies primarily extract natural gas, some flaring occurs, but it's less common since most of the gas is captured and sold.
Despite the high level of flaring that's occurring in the U.S. and in Texas, there are few federal or state regulations on the practice, and most of the data on flares is sporadically self-reported by the industry.
"It would have been really difficult to do this assessment if we didn't have satellite data and had to try to sort through the spotty state-level data that was available," Johnston said. She pointed to the Energy Policy Act of 2005, which prompted deregulation of the oil and gas industry nationwide, as a likely cause for the lack of regulations and data on flaring. In the last four years, the Trump Administration has been working to further reduce the number of regulations on the industry.
If expectant parents notice flaring activity nearby, Johnston recommended reducing exposure to airborne pollutants as much as possible by staying indoors, keeping the windows closed to reduce the amount of outdoor air that gets into the house, and using an air filter to purify indoor air.
"Our study indicates that there are serious public health concerns associated with living near flaring," Johnston said. "I believe that regulatory efforts to reduce and eliminate the amount of flaring that's occurring would be beneficial to communities nearby."
Banner photo credit: skalekar1992/Pixabay